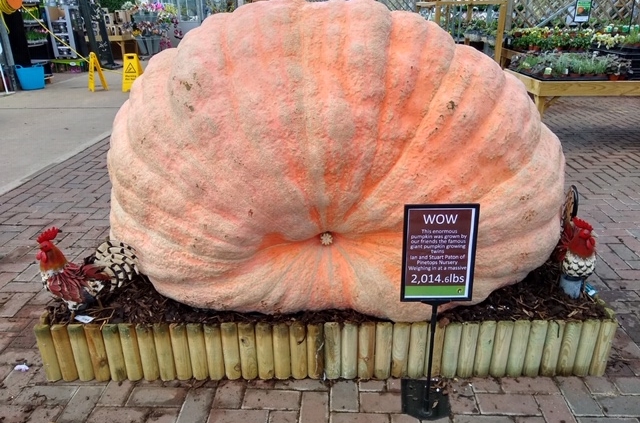 Giant Pumpkin at Otter Lymington
Have you visited our Lymington Garden Centre recently? If not, then now's a great time to go for the chance to view a monster pumpkin!
The pumpkin has been grown by our Lymington neighbours Pinetops Nurseries  – they have hit the news year after year with their record-breaking giants.
The nursery, like Otter, is a family-run business, started in 1959 by Derf and Jean Paton. Their sons, twins Ian and Stuart Paton started growing pumpkins when they were just 11 years old, and it's become an obsession. 48 years later, they still get a kick out of growing the biggest squash in the country – in fact, they hold the British record with a pumpkin weighting 2433.9lb!
This year they have their eye on the prize, the World record! The current pumpkin (pumpkin 1875) is looking on track to smash the record. The result will be known on Saturday 10th October when Pinetops is holding a 'Virtual Pumpkin Festival'.
Normally there's a pumpkin festival at Royal Victoria Country Park but due to Covid-19 it was cancelled – hence the virtual 'drive-thru' festival. People will drive in, their pumpkins will be unloaded, weighed and measured and they'll drive out again.
Even if Ian and Stuart do clinch the World record on Saturday, the twins' brother Rory says they won't stop trying to grow an even bigger pumpkin. Apparently, even when they are all on a family holiday, the twins are always itching to get home to check the pumpkins.
So – what's the secret? Well it's not rocket science. The brothers start growing their pumpkins in March under a grow light, and plant them in good soil on 13th or 14th April. Then the pumpkins do their thing and grow and grow, with lots of watering in the summer.
You can find out more about the virtual festival by clicking here and you can also follow progress of pumpkin 1875 on Ian's Instagram: ianpaton2269
And don't forget to pop into our Lymington garden centre to see one of these monsters for real!
https://www.ottergardencentres.com/wp-content/uploads/2020/10/pumpkin.jpg
480
640
Katherine Govier
https://www.ottergardencentres.com/wp-content/uploads/2019/07/OtterLogo.fw_.png
Katherine Govier
2020-10-08 14:58:19
2020-10-08 17:36:50
Giant Pumpkin at Otter Lymington