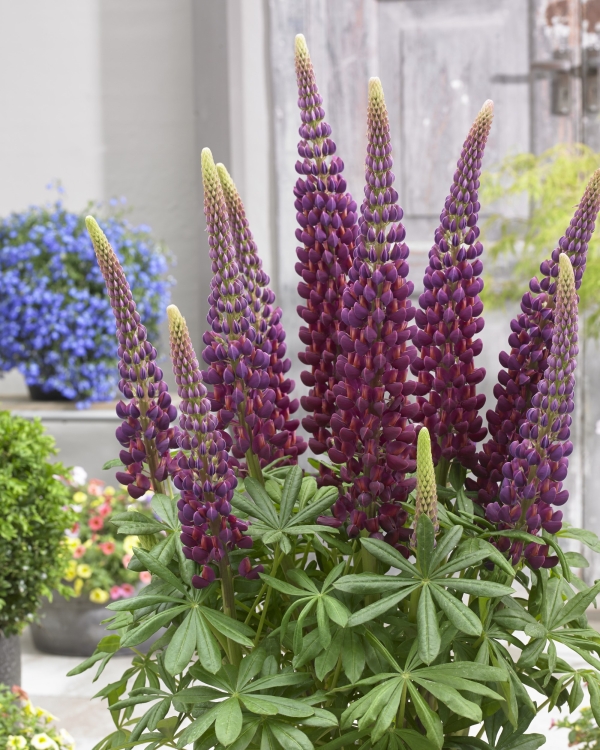 Lupinus 'West Country Masterpiece' (PBR) – 2 litre pot
Otter Price: £11.99
RRP: £15.99
The Lupinus West Country 'Masterpiece' is a captivating perennial that is sure to make a statement in any garden. Standing at an impressive height of about 75cm, this upright plant boasts deeply-lobed, palmate leaves that add texture and visual interest to your garden. During early and mid-summer, the plant produces tall spikes of scented, red-purple flowers that are truly mesmerising. These striking blooms feature a small orange fleck on the standard petals, which adds an extra layer of visual intrigue to this already stunning plant. The vibrant red-purple hue of the flowers is a feast for the eyes, and their sweet fragrance is sure to delight the senses.
Care Instructions:
– Plant in the spring. Avoid planting directly in the frozen soil.
– Container planting is possible throughout the year; use containers that are large and deep enough to prevent roots from freezing in the winter, and ensure there are drainage holes in the bottom of the container. Planted in small containers will lead to plants becoming rootbound.
– Water well after planting. Consistent moisture is critical for the initial establishment of lupins. Once the plants are established, they can tolerate drier soil conditions and require watering only during droughts. Avoid waterlogged conditions in winter.
– To encourage more blooms, remove faded flowers promptly. Deadheading after flowering will encourage growth and new flower production. Deadhead as the foliage begins to yellow towards late autumn or after the first frost.
– Feeding is not required during the first flowering season. Use balanced organic fertilisers to feed older plants in March/April and repeat in July/August.
– To keep the plants looking fresh, divide the clumps every 2 to 3 years.
In stock
Ottery St Mary
Tel: 01404 815 815
Lymington
Tel: 01590 678 679
Plymouth
Tel: 01752 405 422
Torquay
Tel: 01803 873 300
Wincanton
Tel: 01963 33134
Jack's Patch
Tel: 01626 776 996
Taunton
Tel: 01823 323 777