Yard Sales Advisor/Goods In Operative, full-time – Wincanton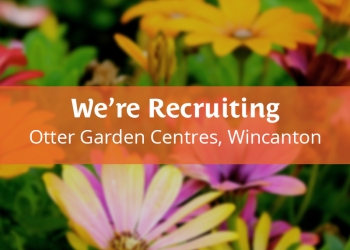 We are recruiting for a Yard Sales Advisor/Goods In Operative. This is an exciting opportunity for an enthusiastic and self-motivated individual to join the team at Otter Garden Centre Wincanton.
Otter Garden Centres is a leading independent garden centre with seven branches across the South of England. We pride ourselves on our wide range of high-quality products and the excellent customer service standards provided in our garden centres.
The successful applicant will be responsible for yard products including garden buildings, landscaping, fencing, ornamental/pots and compost, where previous knowledge in these areas would be desirable. You will also manage retail deliveries for the whole branch.
You will have exceptional customer service skills and experience of working under pressure in a retail environment. Using your detailed knowledge of the premium products in your department you will drive sales whilst ensuring product layout is maintained to high standards.
Requirements
Providing exemplary customer assistance with our premium garden building products and other specialised products
Managing stock: stock taking, maintenance of stock, re-ordering, stocking up
Responsibility for goods-in deliveries for the whole branch
Loading customer purchases as required
Applicants must:
Be a strong team player with excellent communication and interpersonal skills
Have a customer focused attitude with good selling experience
Have experience in goods-in, loading/unloading
Be physically fit and capable of lifting and moving heavy items
Have basic assembly skills
Have a full driving licence. A valid forklift licence would be beneficial
Hours
This role is full-time and permanent, 39 hours per week
Monday 9am – 5.45pm
Tuesday 9am – 4.45pm
Wednesday 7.45am – 4.30pm
Friday 7.45am – 4.30pm
Saturday 9am – 5.45pm
If you would like to join our friendly team in Wincanton as Yard Sales Advisor & Goods-in Operative, please get in touch.
How to apply
Please send a CV and covering letter with your application to:
Email: Alex.Provis@otterwincanton.com
Post: Alex Provis, Branch Manager, Otter Garden Centre, Bruton Road, Wincanton, Somerset BA9 8HA