Plants Department Supervisor – Torbay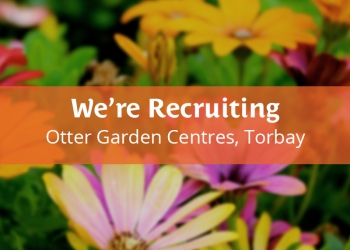 We have an exciting new opportunity for a Supervisor for our Plants department based at Otter Garden Centre, Paignton.
Otter Garden Centres are a leading independent retailer with seven garden centres across the South of England. We pride ourselves on our wide range of quality home-grown plants and the excellent customer service standards provided in our branches.
Requirements
Have a positive 'can-do' approach
Have good attention to detail
Be happy working outside in all conditions
Experience of working in a similar environment is preferred, although full training will be provided as required.
The Role     
To supervise the retail plant area, to ensure the day-to-day operation runs smoothly at all times.
Key Objectives
Maximise sales potential by having appropriate stock levels and the right plants in the right place
Create inspirational displays to drive sales and ensure the plant area is interesting for our customers
To ensure high standards of plant health
Provide horticultural related advise to customers
Lead a small team to ensure the department operates successfully – organise and allocate tasks
Ensure department is clean and tidy, and stock is displayed correctly with appropriate signage
Ensure company guidelines are followed at all times
     The personal skills required for this role
You will be a team player and confident communicator with the drive and energy to work with a great team and provide high standards of customer service
Passionate about delivering the best possible experience for our customers and enjoy working in a busy retail environment
Supervisory skills and good communication and organisational skills, and experienced at leading a team
You will have a good knowledge of plants and horticulture and a strong retail background
Please note this role will include physical work with some heavy lifting.
The interview will include a walk through the plants area where you will be able to demonstrate your knowledge of plants and horticulture.
Hours
Hours
This role is for 39 hours per week across 5 days to include one weekend day.
How to Apply
If you have any questions on the role please email Les.Harding@ottertorquay.com
To apply please email your CV along with a cover letter detailing your suitability for the role to Les.Harding@ottertorquay.com
Location: Otter Garden Centres , Paignton
Published: 12th March 2020