Permanent Customer Service Till Operative, Ottery St Mary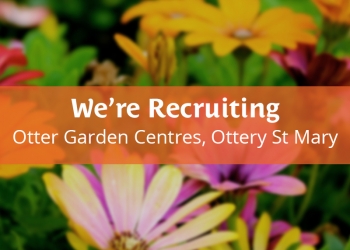 We are looking to recruit a customer service till operative to work at our Ottery St Mary garden centre.
Requirements
Duties & responsibilities to include:
Professionally carry out the front-end tills ensuring prompt, friendly, courteous and reliable assistance is provided to all our customers
Answer telephone enquires
Work with colleagues on how to deal with special circumstances including theft, complaints, returns, exchanges, coupons, special offers, etc.
Evaluate returned items to ensure they meet the standards and regulations of store policy on refunds and exchanges
Handle and resolve customer complaints or discrepancies with prices at the tills and throughout the site
Review cashier work schedules to ensure adequate staffing is available
Provide helpful and efficient customer service and model appropriate behaviour for all colleagues
Verify sales transactions and ensure cashing up is conducted safely at the close of trade and as per company procedures
Perform duties in a safe and efficient manner
Acknowledge and follow all cashier policies and procedures
Adhere to all Health & Safety requirements
The ideal candidate will:
Have excellent customer service skills
Have good communication and listening skills
Have good numeracy skills necessary to supervise and handle front-end transactions and operations
Great attention to detail and organisational/problem solving skills
Previous experience of a retail checkout supervisory role is preferred
Otter Garden Centres are a leading independent retailer with seven branches across the South of England. We pride ourselves on our wide range of quality home-grown plants and the excellent customer service standards provided in our branches.
Hours
Hours
Full Time: 39 hours 5 days, to include a 45 minutes unpaid break (Tuesday – Friday 9am – 5.30pm & Sun 9.30am – 5.00pm)
Days off to be Monday & Saturday
Pay scale will be related to previous experience
How to Apply
To apply please submit your latest CV with a covering letter detailing relevant experience to Kirsten Winsborrow assistantmanager@ottergardencentres.com
Thank you for your interest in working for Otter Garden Centres.
Location: Otter Garden Centres , Ottery St Mary
Published: 23rd February 2022