Part-time Garden Centre Assistant (Plants), Wincanton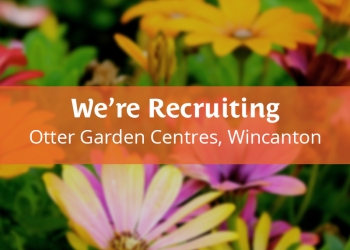 We are recruiting for a Garden Centre Assistant to work in our Plants department at Otter Garden Centre, Wincanton.
This is a part-time role working 5 days a week.
Requirements
Duties will include:
Helping customers with product enquiries in both hardy and bedding plant areas
Ensure high standards of quality are maintained at all times in the Plant area
Working deliveries as they arrived
Assisting with stock control and stock ordering
Helping customers with specific Plant queries when asked
Reviewing and relaying seasonal layouts
Working on the tills
Supporting the team leader
About You:
Have excellent customer service & communication skills
Be a strong team player
Be able to work on your own using initiative
This role will involve some heavy lifting, for example moving large plants or pots.
Otter Garden Centres are a leading independent retailer with seven garden centres across the South of England. Established over 50 years ago, we pride ourselves on our wide range of high-quality homegrown plants and the excellent customer service standards provided in our garden centres.
Hours
Monday, Tuesday, Wednesday, Friday and Saturday 9am – 2:15pm
To apply please submit your latest CV with a covering letter detailing relevant experience to Alex Provis by emailing alex.provis@otterwincanton.com
Thank you for your interest in working for Otter Garden Centres.
Location: Otter Garden Centres , Wincanton
Published: 11th May 2022