Retail Sales Advisor, Garden Furniture – Ottery St Mary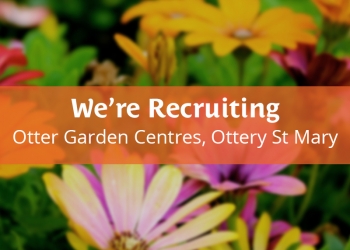 We are looking for a Retail Sales Advisor to work in our Garden Furniture Department at Otter Garden Centre, Ottery St Mary.  This is a full-time role to work 5 days per week including a Saturday.
Requirements
You will have exceptional customer service skills and experience of working under pressure in a retail environment. Using your detailed knowledge of the products in your department you will drive sales whilst ensuring product layout is maintained to high standards.
The role requires a customer focused individual, with good selling experience and the ability to drive sales and high retail standards.
The role will transfer to our Christmas department from September to January
The duties will include:
To work on the sales floor selling garden furniture and related products.
Working as part of the Christmas team for the Christmas season, where retail and merchandising experience is desirable.
Using the tills and the stock ordering system.
To maintain high standards in the specialised product areas.
Reviewing seasonal layouts and implementing change.
This role is mainly shop floor based, some lifting and manual handling will be required.
About You
Previous retail experience is essential, and preferably experience of dealing with high ticket sales.
Excellent customer service and selling skills.
You will be a self motivated, energetic and enthusiastic individual.
You will be a team player and passionate about delivering the best possible experience for our customers. and enjoy working in a busy retail environment.
Otter Garden Centres is a family-run independent business with over 50 years heritage of growing and selling plants. We pride ourselves on not only providing a high-quality customer experience in all our garden centres but also offering a high quality, wide range of garden related products to our customers.
Hours
This is a full-time role for 39 hours per week to include one weekend day per week (Saturdays).
How to Apply
Please send your CV and covering letter by email to Furniture Manager, Wendy Kingdon. In your cover letter please provide information on your suitability for this role and your interest in working for Otter Garden Centres.
Please email your application to Wendy Kingdon
Location: Otter Garden Centres , Ottery St Mary
Published: 28th January 2020