Assistant Branch Manager – Ottery St Mary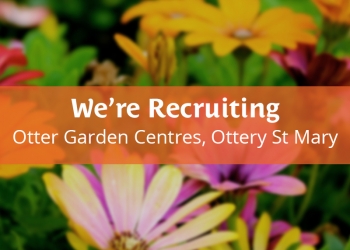 Otter Garden Centres is a leading independent garden centre business with seven branches across the South West of England. We attract nearly 2 million visitors a year and pride ourselves on the excellent customer service standards provided in our garden centres, and our wide range of carefully selected products for the garden and home.
We have an exciting opportunity for an experienced Retail Manager to join our busy team at our Garden Centre in Ottery St Mary as Assistant Branch Manager, reporting to the General Manager.
Requirements
This is a key position for our Retail business. You will have responsibility for the day-to-day management of a number of Retail departments including garden sundries, clothing, cookshop and garden furniture. With your team you will drive sales and profitability in line with targets, and lead your team to manage inventory, ensure merchandising is implemented in line with guidelines, and ensure every customer receives the best customer experience when visiting our garden centre.
You will have gravitas and experience of working with senior management to ensure we have the right systems and operations in place to maximise efficiencies, and productivity.
We are looking for someone with proven Retail knowledge and experience, someone who sets high standards of performance for themselves and their team members, and strives for excellence along with continuous improvement.
This Role Includes:
Working with the General Manager to ensuring the delivery of operational and commercial standards throughout the centre.
Leading your team to drive sales and profitability through the performance and development of the centre, whilst managing within agreed budgets.
Ensuring a customer centric environment, you will understand customer needs and ensure our high level of customer service is guaranteed for each and every customer.
Health and Safety for your departments.
Managing stock and working with Buying teams to ensure stock is in place at the right time to drive desired sales.
Setting up and dismantling seasonal departments including merchandising
Managing customer enquiries for your departments.
Lead a team of between 40 & 100 team members.
Recruitment, coaching and training your team to achieve excellence and to reach their full potential.
Collaborating with all internal departments including Operations, Warehousing, Marketing, Visual Merchandising and Buying.
The Ideal Candidate:
You will have a minimum of 3 years Retail Management experience.
Will thrive under pressure, and enjoy working in a busy environment.
Excellent people management and people development experience.
Proven experience of planning and prioritising to achieve multiple goals.
You will be an enthusiastic team player, with excellent communication skills.
Has excellent attention to detail, with a genuine enthusiasm, pride and interest in their job.
Plant and horticultural knowledge will be helpful but is not required for this role.
Hours
This is a full-time permanent role to work 39 hours per week over 5 days including one weekend day and late night opening one night per week.
To apply please submit your CV with a cover letter detailing your suitability for the role, and current salary to Jonathan Sweet by emailing jonathan.sweet@ottergardencentres.com
Thank you for your interest in working for Otter Garden Centres.
Location: Otter Garden Centres , Ottery St Mary
Published: 29th April 2021