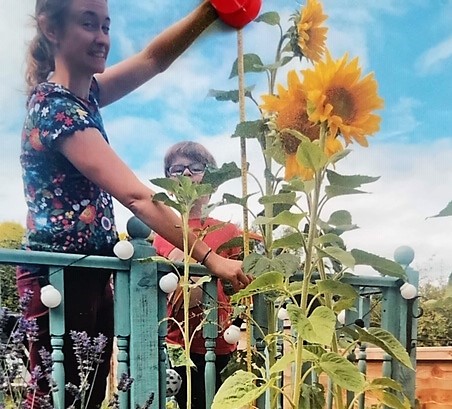 Who grew the tallest sunflower?
Our Torbay Garden Centre helped with a sunflower growing competition run by the Baby and Toddler group at St Andrews Methodist Church in Shiphay, Torquay. The competition was the brainchild of Fiona Kirollos.
Fiona explained that she studied plants and environmental issues at university and as she comes from a health background, she felt this project was just perfect to get the children involved in.
Seeds, compost and pots were donated by our Torbay branch, and the competition began in earnest back in July with an impressive 35 entries.
In early November, Mo and Oscar from Otter went along to the church to present certificates and prizes to the winners.
First prize: Harry Stevens (2). His sunflower measured 237cm.
Second prize: Lara Varol (18 months), Maddie Kidd (12) and Lois Kidd (9) whose combined efforts grew a sunflower 234cm high.
Third prize went to Arlo Bearne (26 months) and Ollie Armstrong (6) and Izzy Armstrong (3) at 195.58cm and 195cm respectively.
Fourth prize went to Jezabel Barden (21 months) and Tobias Barden (3½). Their sunflower grew 167.6cm high.
Fiona says next year they'd like to start arranging the competition earlier in the year and if there is enough interest, they will open the competition up to other groups in the Bay.
"Gardening has so many benefits; not only for our children's physical health but their psychological wellbeing and development. Studies have shown that gardening has a significant effect on our overall happiness and for children, a hobby involving fresh air; being away from computer screens and mobile phones; interacting face to face with friends and family and nurturing a plant can have huge benefits. Gardening is a wonderful activity, promoting patience, resilience, manual dexterity, problem solving and nurturing skills.
Introducing gardening at an early age in a fun way could be the start of a lifelong hobby so we chose the sunflower competition as sunflowers are relatively easy to grow and have always been attractive to children due to their height and bright dish sized flowers.
It was only with the support of Otter Garden Centres that we were able to trial it this year so we are very grateful to them for all their support and for sparing the time to award the prizes and certificates; it made the event very special to the children and their families."
St Andrew's Methodist Church Baby and Toddler group has been running for many years and is a thriving group which runs sessions on a Tuesday and Wednesday morning for 0 to 5 years. The group's focus is to promote friendships and to have fun and is run a committed and lovely bunch of volunteers, Jean, Judith and Nicola, who aim to care for all that walk through the door.
A huge well done from all at Otter to all the children who took part and we hope you and your families will be inspired to grow more sunflowers next summer!
https://www.ottergardencentres.com/wp-content/uploads/2019/11/torbay-comp.jpg
409
452
Katherine Govier
https://www.ottergardencentres.com/wp-content/uploads/2019/07/OtterLogo.fw_.png
Katherine Govier
2019-11-21 10:31:52
2019-11-21 10:43:25
Who grew the tallest sunflower?